About Dr. Kevin Lam, D.P.M., FACFAS, DABLES, DABPS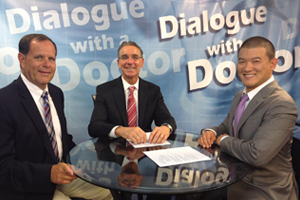 Specialty in Reconstructive Surgery of the Foot, Ankle
and Lower Leg
Regenerative / Sports Medicine
Clinical Adjunct Professor of Barry University
Double Board Certified Ankle Surgeon

Board Certified:
American Board of Lower Extremity Surgeons


Board Certified:
American Board of Podiatric Surgery
Foot Surgery
Reconstructive Rearfoot and Ankle Surgery(one of only 850 in the country as of 7/2013)

Published health writer and national foot / ankle lecturer
As profiled in Naples and Gulfshore Magazines.
Treating all ailments of the foot and ankle with
special interest in: Reconstructive Surgery of the Rearfoot and Ankle.

Kevin Lam, DPM - Top Medical Innovator 2009Voted top doctor by Naples National Network 2008/2009

Dr. Kevin Lam is Voted Amongst America's Top Podiatrists 2011 & 2014 by the Consumer Research Council

Dr. Kevin Lam is featured in Naples Illustrated.

Neuroma Cure Without Surgery
Stop Neuromas and Stump Neuromas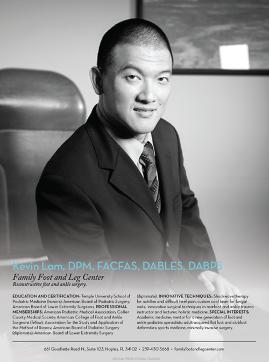 FootAnkleConnect
Comprehensive consultancy : Online & on your time
Download our
FREE
app today!




Description
If you are a patient with disorders on the feet and lower limbs, the Virtual consultation will surely help you. We are a HIPAA Compliant facility and our Board-Certified podiatrists can treat conditions resulting from bone and joint disorders of the foot. Our convenient, virtual consultation service is a great option if you have a busy schedule, or prefer the privacy of an online consultation.
Call Today: 239 430 3668 (FOOT)
Self Service # 844-889-1725
Fax: 239 692 9436

Brennan Building
730 Goodlette Road, suite 102
Naples, FL 34102